Reg. No. UPSA16714808 registered under the Labour Department of Uttar Pradesh

Amazing Tours and Travel Packages
Awarded by TripAdvisor and Viator
Majestic Taj Tours is awarded twice by Tripadvisor for its excellent work in tour and travel industry. Tripadvisor which is the biggest platform in the travel industry awarded Certificate of Excellence in 2019 and Travellers Choice in 2020 to MTT. Majestic Taj Tours is also awarded with Experience Award 2022 and 2023 Travellers' Choice award by Tripadvisor.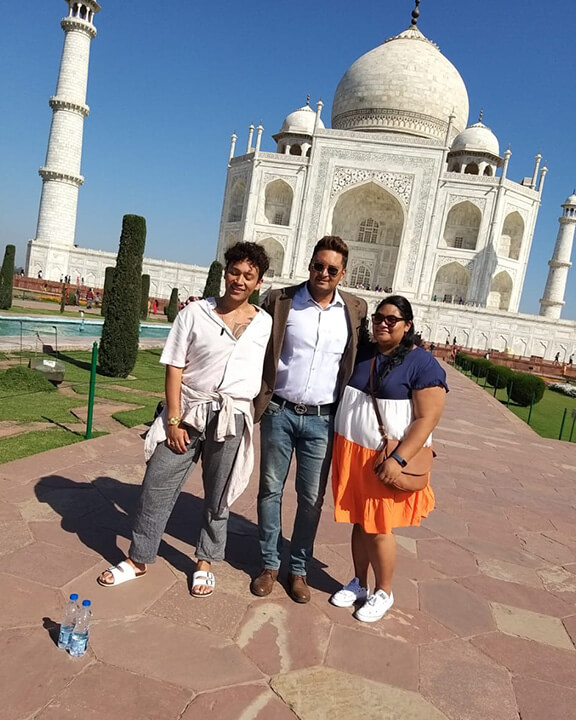 Welcome to Majestic Taj Tours
Making your Travel a memorable experience forever
Majestic Taj Tours is a tour booking website that offers a wide range of Tour Packages. The facilities provided are customer oriented with our roots in the heritage cities we are well acquainted with the royal heritage of the country. The essential services we offer will let you know the true colors of the country. Our entire staff will leave no stone unturned to make this trip truly memorable.
Majestic Taj Tours have served more than 1500 plus travelers across the globe and has the record of serving the guest of all the 7 Continents and number is still increasing day by day.
Our main motto is quality service and customer satisfaction for which we hard day by day we also made tailor made tours according to the customer needs and preferences.
Taj Mahal Day Tours From Delhi
Majestic Taj Tours offers the best Same Day Agra Tours/ Same Day Taj Mahal Tours from Delhi. The most selling tour of MTT is the Same Day Agra Tour by Car from Delhi. We also offer Same day Agra tour by train, Same Day Sunrise Taj Mahal Tour, Half Day Taj Mahal Tour and much more. These all tours come with an all inclusive options which includes almost everything such as Transportation, Tour Guide Service, Monuments Entrance with skip the line, Lunch and breakfast at 5 star hotels and much more depending upon the needs of the customers. We also offer tailor made tours depending upon the customers needs and preferences.
Golden Triangle Tours gives the chance to enjoy the rich heritage culture of North India including Agra, Delhi and Jaipur tour without the chaos of arranging anything this all inclusive tour includes almost everything. We offer Golden Triangle Tour 2 Nights and 3 days, Golden Triangle Tour with Ranthambore, Golden Triangle Tour with Birds And Tigers and Golden Triangle Tours with the Highlights of North India, in all these tours you will visit the three most visited cities of North India, Agra, Delhi and Jaipur with Jhansi, Orcha, Khajurao, Ranthambore and Bharatpur and you will experience the peace at the temples of Orcha, Khajurao and Jhansi. In Ranthambore you will visit some of the historic places, and in Bharatpur you will visit the Keoladeo National Park which is a bird sanctuary and former royal game reserve in the North India of Rajasthan. The Golden Triangle Tour 2 Nights and 3 Days is recommended by 99% travellers.
Delhi Tours gives you the chance to visit some places in the Capital of India. This private tour enables you to experience the best of Old and New Delhi in a day by a chauffeur driven climate control car. The Delhi Tour covers almost all tourist spots in various parts of Delhi like, Qutub Minar, India Gate, Jama Masjid, Old Chandini Chowk Market, Red Fort, Humayun Tomb and Lotus Temple, under the guidance of an experienced live tour guide service. The highlight of this tour is prearranged entry to all monuments, door to door pick up and rickshaw in the chaotic streets of Old Delhi.
Jaipur Tours gives you the chance to enjoy Jaipur city in a day. This private tour from Delhi will get you picked by your privately booked chauffeur driven car from Delhi and then in Jaipur you will visit Jal Mahal, Jantar Mantar, Hawa Mahal, Old City Palace, and then next day you will go to Agra where you will visit the Taj Mahal and Agra Fort. This Tour includes almost everything from Tour Guide to Monuments Entrance fee.
Promise of outstanding experience, you never forget!
Our dedicated team of professional Tour guides, Drivers and Executives will leave no stone unturned on your trip with Majestic Taj Tours as "We Provide As We Promise" So just sit back and enjoy your Journey to India with our wide range of customizable tour packages across Agra, Delhi, Jaipur, Rajasthan and Parts of North India.
Call us, mail us or Whatsapp us at any time for any assistance.
Last-minute bookings are never an issue with us. Make every holiday count!
5 Star Tripadvisor Rating
We have over more than 500+ positive review on tripadvisor from our valuable guests.
Any cancellation 24 hours before the trip will receive a full refund.
Hear What Our Guests Have to Say
Great live guide. 100% recommend the live guide. Nadeem Khan was very knowledgeable about the rich history of this beautiful place. He was also a dab hand at taking photos. Very good English too.
Great! Danish was the best guide we could hope for. He took us to a great trip to the Taj Mahal including a full photographic session. No complaints m. Worth a great tip!The driver Aman waited for us and was extremely kind and available.We will be in touch.
Amazing place and great guide Amazing place to visit and great guide - Nadeem Khan - who did a great tour and was very knowledgeable.
Informative and enjoyable tour Myself and friends enjoyed a fantastic tour by our guide, Nadeem Khan, who gave us lots of information on the Taj Mahal and its history. Would definitely recommend to anyone travelling here to get the full story of this amazing landmark.
Excellent Very well served organized company , from tour guide to driver picking up from any location by New Delhi airport , our driver was well mannered and on time. Tour guide dhanash was well spoken in multiple languages, the tour guide even sent us multiple ppl for hospitality, I would definitely recommend this tour Enjoy book ur 2 day Agra tour
Best day with Nadeem Khan We came to see the Taj Mahal and we were lucky to meet Nadeem Khan. He showed us the magic of the Taj Mahal. It was interesting, it was a delight. It was one of the best day of my life. Nadeem Khan is now my friend, I love him and cherish our friendship. Thank you my friend from beautiful India.
Agra day trip from Delhi Can recommend this tour Company.We booked a day trip to Agra from Delhi to see the Taj and Agra Fort.The car provided was in good condition with seatbealt for all. Please note that a 7 seater is really a 6 seater is for adults.Mr Khan the guide was he also helped us taking great pictures of us at the sights.
Nadeem khan Is the best We took Nadeem khan and we had an amazing experience he was very nice and kind and a gave us beautiful pictures he explained us everything about the place and answered all of our questions we had a great time with him
Day out Agra and Taj Mahal Had a lovely time with this firm. They were punctual and professional. Tour guide Nadeem and his driver were brilliant. Had a lovely tour of taj mahal and day out in Agra. I recommend this company.